Celebrities like Kristen Bell, Anne Hathaway, and Liam Hemsworth have all ditched their vegan diets (some due to health complications!). Even some popular vegan bloggers, including Yovana, who at one point had over a million Instagram followers, have stopped preaching veganism. And, many vegan bloggers have faced backlash after dropping their vegan diets. Yovana quickly learned this after she was seen eating fish in a now-viral video posted by a fellow vlogger, which resulted in a huge outcry from her followers. "I was in shock and felt confused and ashamed at the response," she says.
Recent filmmakers have produced documentaries on the benefits of a vegetarian lifestyle and the problems of eating meat. Game Changers, a documentary that follows vegan athletes, became the best selling documentary of all time on iTunes. Clearly, people are very passionate about veganism.
On the other side of the fence - the keto diet. Celebrities like LeBron James, Tim Tebow, and Kourtney Kardashian all swear by the keto diet. The keto diet, or ketogenic diet, is a low-carb, high-fat diet that shares many similarities with the Atkins and other low-carb diets. It involves drastically reducing carbohydrate intake and replacing it with fat. This reduction in carbs puts your body into a metabolic state called ketosis.
The Today Show host Savannah Guthrie quickly realized that keto wasn't for her. She confessed, "I feel less energy in the sense that I don't want to work out anymore. I think I need those carbs to want to go on a run or do aerobics or do whatever I might do." Similarly, Dancing with the Stars pro Witney Carson was one of the first to speak out about the negative impact the keto diet had on her body. Carson said that while she lost weight, her skin broke out. She reveals, "I have eczema and my eczema was super, super bad. I think I have an allergy to dairy and cheese, so I try to stay away as much as I can now." Given her allergy, Carson then switched to veganism, which wasn't sustainable for her either. She said the diet made her feel energized, but realized her muscles weren't getting enough protein. Now, she just sticks to eating whole foods and whatever makes her feel healthy.
So What Is The "Right" Diet?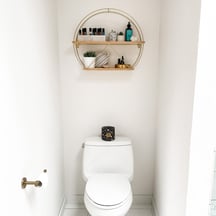 Confused? I was too! I often treat patients whose diets are causing their back pain. So, what are we supposed to eat? Who's right, and who's wrong? I decided to try to figure out these answers myself. So, I went to my meditative, deep thinking place that provides me privacy and quiet: the bathroom. I had a revelation from below while sitting on my toilet bowl! There is no such thing as "the right diet," but there is such a thing called "the right diet for you." Everyone's digestive system is unique, so you need to find the diet that works for you! And, how do you do that? Let your shit tell you. If you are having good, healthy bowel movements, then you have the right diet. If not, then you aren't eating and processing the right foods.
Check out my book The Good Sh*t, which should clear up all of this dieting confusion!